A Peek at Jason Mraz's Fun Farming at Home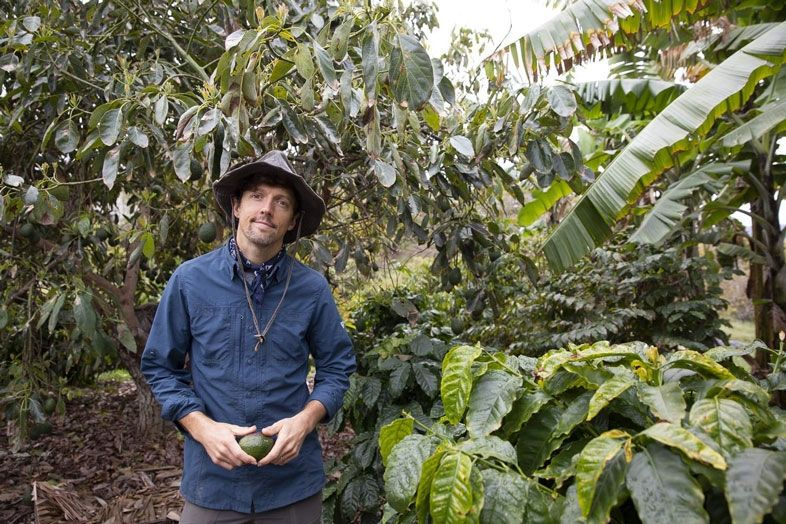 Jason Mraz with plant
(Istimewa)
Celebrities are well known for being an advocate for everything organic. In keeping up with their busy schedule, most celebrities are more aware of what they consume and most are willing to pay extra for high-quality produce. But who would have thought that Jason Mraz, award-winning singer/songwriter is taking it to the next level by growing his own on his farm in San Diego, California?
This American folk-pop star has stated in an interview with Forbes that he did not intend to start gardening back in 2004 when he bought his San Diego house. He explains that as a homeowner, he started to notice the waste he produces and the impact it had on his land, this then led to him learning about composting and starting a small garden of leafy greens, tomatoes, and pepper. That small patch of a garden then grew into 1,000 avocado trees, 2,300 coffee trees, and about 300 tropical fruit trees.
Since then, he is known for urging people who have the space and are interested in growing their own food to just start. As just like him, he had no prior farming experience and leaned heavily on whatever learning source he could find. He also likes to share his knowledge around his gardening activities on his social media. In a Facebook post, he shares a picture of his harvest of corn and beans along with snippets of information about types of seeds for planting. In 2016 he even shared his experience of becoming an urban farmer in a podcast with The Urban Farm.
Jason Mraz, a known vegetarian
As a part-time farmer and singer/songwriter, it is no wonder that Jason Mraz has been a public supporter and advocate for a plant-based lifestyle that consists of plenty of fresh foods. He once even followed a strict vegan diet and sticking to mostly raw foods back in 2011. His recipe for Chocomole, a mixture of avocados (grown fresh in his background no doubt), dates, cacao, agave nectar, and coconut oil, sounds delicious and very easy to make for a vegan-friendly meal. In a blog he wrote in 2011 he shares that he feels "stronger, fitter, healthier, and more productive" following a vegan diet.
Now as his farm grows larger and larger, Jason Mraz is still an advocate for a plant-based diet as a vegetarian with the occasional farm fresh eggs from his neighboring chicken farm.
Jason Mraz uses a vertical gardening technique
Jason Mraz farm, all 17-acre of it, is now a family operation called Mranch. A family farm operation that cultivates avocados, coffee, and other exotic and specialty crops. The farm has gotten so big that it's able to become one of the suppliers of avocados to Chipotle in California, a restaurant chain that specializes in Mexican food. While his coffee plants are available to purchase with the brand Frinj Coffee. It is quite amazing seeing what he started as a patch of garden and learning curve in farming turns into a lucrative business we can all aspire to have.
As an advocate for a plant-based lifestyle, it's no surprise that Jason Mraz harvests his own produce. In a social media post, he even shares his experience of growing vegetables in a vertical garden. His vertical garden is filled with various lettuces, spinach, peas, tomatoes, bok choy, and various herbs that he grows using the hydroponic growing system called Lettuce Grow.
The app integrated growing system is equipped with a water pump that circulates water up and down the plants along with a pH monitor. By adding seedlings (that no doubt Jason Mraz sowed himself) and the occasional plant food, this system makes it possible for a space-limited household to grow their produce. His developed vertical garden now sits in his backdoor acting like, what he said as, "posh houseplants".
The global trend of vertical garden
Gardening can be inaccessible for some with limited space. With urban cities developing left and right, growing spaces can be hard to find, not to mention requiring good land management before planting to properly produce. Recently vertical farming has become somewhat of a trend. This method of planting like the ones Jason Mraz is using with his growing system is an alternative to traditional farming that grows plants above the grounds.
There are quite a lot of ways to start vertical gardening. The website Easy Vertical Gardening shares that there are vertical gardens that attach to a wall with fabrics, a framed tiered pot, using PVC pipes, or just hanging the pot to a wall. They noted that whichever types of vertical gardening are being used, the key to success is to make sure that there's a good irrigation system and access to sunlight.
Written by: Safaanah