Benefits of Sea Grapes for Health and Beauty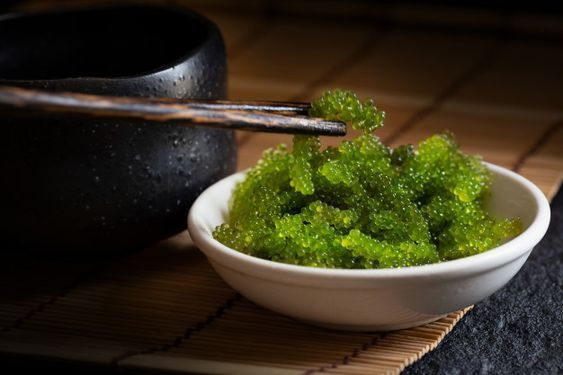 Benefits of Sea Grapes for Health – Photo by Pinterest
(Istimewa)
Sea grapes or green caviar are seaweed with the Latin name of Caulerpa lentillifera. This seaweed gets its name from its shape that looks like bunches of small grapes vertically stacked together. Each 'grape' is very tiny, around 0.1-0.2 cm spherical, and translucent with colors ranging from bright green to bluish and olive green.
Chances are you are familiar with this seaweed as latoh or lawi-lawi for it is usually cooked as a form of traditional salad called urap or fresh as a side dish (lalapan). It is also quite popular around the Central Java Coast, specifically Jepara and Lembang where this seaweed is mostly cultivated.
The origin of sea grapes
Sea grapes are native to the regions of the Indo-Pacific coast. This is why sea grapes are popular in East-Southeast Asia and have so many names. In the Philippines they are known as lato or arosep, in Malaysia, they are called latok, and in Japan, they are called umibudo.
The sea grapes are generally popular around the coastal area. This is because sea grapes are traditionally harvested from the ocean floor, giving it its distinct briny salty flavor from the ocean water. But with the increased demand, resulting in overharvesting from the ocean, sea grapes farmers have created local sea grapes farms.
Benefits of sea grapes
With its tiny little 'grapes' the texture of sea grapes is known to be unique. As with any other seaweed, at first glance, it could look slightly agar-like, but sea grapes have a crunchy texture that comes from the tiny bubbles popping as you bite into them. Usually eaten fresh, this seaweed is filled with nutrients and contains antioxidants, folate, and vitamins that are beneficial for health and beauty. Let's break down some of the benefits that sea grapes have.
Improves eyesight. Sea grapes are rich in omega-3 fatty acids like EPA and DHA that help to improve eyesight and memory.
Helps in reducing cholesterol. The number of fatty acids in sea grapes can also help in reducing cholesterol and has the potential to lower the risk of heart diseases such as coronary-artery disease and stroke.
Relieve constipation. Sea grapes are low in calories and sugar content, allowing the good bacteria to digest food and excrete waste more quickly and efficiently.
Improves skin health. Sea grapes are packed full of minerals such as iron, calcium, magnesium, and iodine. that help the skin retain its elasticity. It is also rich in hyaluronic acid, a common ingredient in skincare products that has benefits such as skin healing, wound repair, and cell migration.
Helps in weight loss management. Sea grapes have only 4 calories per 100 grams and are high in dietary fiber. Making it beneficial for people looking to lose weight.
Now that we know the many benefits of sea grapes, let's take a look at how we can cultivate them.
How to cultivate sea grapes
As reported from Trubus, there are two ways to cultivate sea grapes, using a pond (tambak) and a semi-indoor container. The semi-indoor container is used to get around the limited space to grow sea grapes along the coastline. Gede Sudi Wira, sea grapes cultivation technician in PT Tropical Ocean Prawn, Bali said that the cultivation of sea grapes is relatively simple. He relies on an attachment container (algae mat) with a pipe frame measuring 1 m x 0,5 m as a place to attach sea grapes. In each tub, Gede said can be filled with 5 attachment containers with evenly distributed sea grape seeds. On average, each tub can contain 16-18 kg of sea grapes seeds.
The water level in the first month is about 50 cm and is added periodically following the growth of the sea grapes. Gede noted that the distance between the highest shoots of sea grapes and the water level should be about 30 cm.
Daily maintenance for sea grapes cultivation includes fertilization every two days. Gede mixes his own fertilizer in the form of granules similar to hydroponic fertilizer. The raw materials contained in the fertilizer are shrimp feed and calcium ammonium nitrate fertilizer. Each tub will then get 5 ppm of fertilizer intake.
If the growth is good, the height of the branches of the sea grape stolons can reach 7 cm in a month. Gede will then harvest the sea grapes 1,5 months after planting. The characteristics of ready-to-harvest sea grapes according to him are sea grapes dominantly measuring more than 7 cm and have been kept for 1,5-2 months. Harvesting them is relatively easy, workers will lift the algae mat and remove all the sea grapes that are attached, and put them in another container. The harvested sea grapes will then be sorted into three, long (more than 8 cm), short (5-7 cm), and seeds. Sea grapes that are not long enough are then categorized as seeds that will be planted again.
Another maintenance that the sea grapes cultivation needs are cleaning the tub every day to remove dirt and weeds. Ensuring a clean environment for the sea grapes to grow. Each tub contains 4-7 points of aeration to support the growth of sea grapes. The seawater used is passed through a series of filters and ultraviolet rays to ensure that it is free from pollutants.
The other method to cultivate sea grapes is by using a pond near the coastline. This method is much simpler than the semi-indoor because it does not use an attachment container (algae mat) or fertilizer for the water. The sea grape seed would be stocked or planted directly on the floor of the pond with open access to seawater from the tides. While it may be simpler, this method also has less control making it harder to predict the growth of the sea grapes.
Written by: Safaanah