Enno Lerian, Child Artist Who Is Now Good at Gardening at Home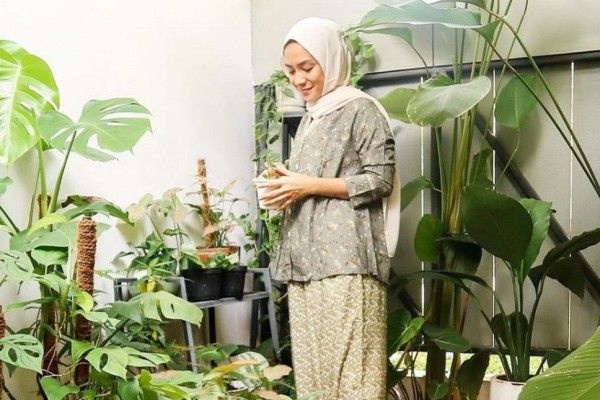 If you grow up in the '90s, the name Enno Lerian might be familiar. The child artist was famous in the early '90s with her songs such as Si Nyamuk Nakal, Dakocan, Dudidam, and Semua Ada di Sini releases when she was as young as nine years old. As she grows older, her career in Indonesian entertainment has developed into acting in a few 'sinetron' or Indonesia's version of soap operas. One noticeable title is the 2001 to 2001 sinetron with the title Pernikahan Dini starring Agnes Monica and Shahrul Gunawan. It's no wonder that for millennials, her name brought up childhood memories.
Now at 38, Enno is a mother of five children and works as a radio announcer in Female Radio with a 4 pm segment with Danar Gumilang called Afternoon Feel Good. But when she's not thriving as a mother and on-air, Enno shares one of her hobbies of collecting and taking care of her collection of ornamental plants at home. Through her social media, Enno loves to share her ever-growing collection of ornamental plants she has at her home. From the ups and downs of taking care of rotting leaves, photos of the plant as background, and teaching her sons to get into gardening, Enno love to share the little tidbits of her gardening online.
Enno's Collection of Ornamental Plants
From Monstera to Begonia, Enno has all kinds of plants featured in the corners of her house. As reported from IDN times, let's take a look at Enno's ornamental plants' collection.
Caladium. This plant is known for its heart-shaped leaves that display an amazing color combination of white, pink, red, and green depending on the type. As seen by her social media account, Enno has placed these big leaves plants in her backyard straight on the soil.
Fern, Hoya and Sansevieria. These ornamental plants are more commonly grown in a pot in a slightly shaded area, which is exactly what Enno did by putting them on her terrace. These plants are slightly smaller in size and are perfect as an addition to fill those empty spaces in a corner of the room or windowsill.
Monstera. This famous holed-leaf plant is a perfect addition as an indoor decoration addition. Enno is seen to place her Monstera in earthenware pots next to her kitchen window. This plant likes bright, indirect sunlight, making it a perfect plant to place near windows.
Calathea lutea. This big leaf plant is perfect for providing shade and freshness around the house. Enno is seen with Calathea lutea placed on the sides of her house, making it a great background for photos.
How to care for ornamental plants and fertilizer recommendation
If you've been following Enno's online for a while, you might get the sudden urge to try and collect your very own ornamental plants. Taking care of ornamental plants can be a great hobby to start when you're feeling the end of the year blues. Plants are known to bring peace and calmness to the house, not to mention they help regulate the humidity and clean the air around the house. They also didn't have to cost much, start small and see how you feel after three to six months of having them then decide if you want another one.
Now let's talk about the actual care of ornamental plants. Depending on the type and kinds of plants you have, watering time and schedule might differ. If you're like Enno you probably have a schedule in place for watering and tending. But let's talk about the general care for ornamental plants.
Places to put them. The first thing after you buy or adopt a new plant is to figure out the best place to put them. Some plants love direct sunlight, some need partial shade, some need higher humidity, some less, and some are better left alone not fussed over. Whichever one it is, try to follow the care instructions that some plants came with.
Watering. Arguably the most important part of owning ornamental plants is watering them regularly. The amount of water itself will depend on the type of plant and soil it's planted in. Some plants are drought tolerant while some are not. A good tip to keep in mind is to look at the soil, if the soil is still wet after you put your finger five cm deep then maybe hold off on the watering. Also, try to water in the morning to help avoid evaporation so the water can penetrate to the roots. Any wilting or yellowing on the leaves will tell you if your plants need water.
Stabilizing. Just like us, plants need a little support now and then as they grow. Adding a stake as a support can help the plants to grow taller especially during a particularly heavy wind season. Stakes are also important if you're having top-heavy plants that have aerial roots. While plants like devil's ivy are beautiful when draped down the sides of the pot as they hang, they naturally like to creep up on trees, making a moss stake a great option when having them indoors.
Fertilizer. Fertilizers are the food of plants to help them grow strong. The soil where the plant is growing should contain some fertilizer in it such as compost to ensure the needs of the plant are fulfilled. Then every few weeks add additional fertilizer. The University of Georgia gives a general guideline of fertilizer for ornamental plants. A fertilizer with primary nutrients (NPK fertilizer) is best to use in a ratio of 3-1-2 or 4-1-2 for optimal ornamental plants benefit.
Written by: Safaanah