Hope for Modern Agriculture in Indonesia Indonesia's Agricultural Prospects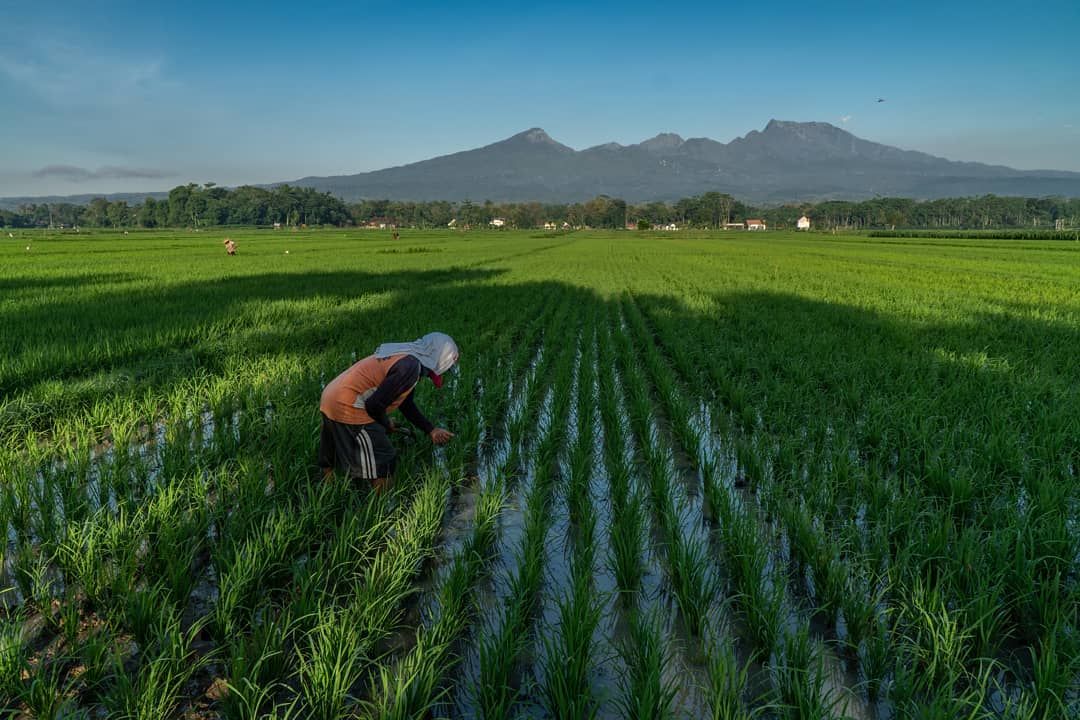 Photo by Pinterest
(Istimewa)
Indonesia has been well known to thrive in the agricultural sector. Wherever you're visiting in Indonesia, drive a little bit outside of the cities and you'll find crops of land growing from rice to cassava to corn. Indonesia's soil is also well known for its fertility and has farmers growing crops since the 16th century when the archipelago wasn't even officially called Indonesia yet. Farming has been a sort of tradition for Indonesian and often its business is passed down from generation to generation. Rice, one of Indonesia's favorite foods and repeatedly consumed every day, is one agricultural commodity that never goes out of demand. While other exotic commodities such as rubber, copra, palm kernels, palm oil, coffee, cocoa, and spices.
After two years of the pandemic where every sector in Indonesia is feeling the damaging effects, positive growth can finally be seen in the Indonesian economy. The agricultural sector alone grew 1,31% (y-on-y) in Q3-2021, a significant increase from 0,43% in Q2-2021. As stated in Media Indonesia, The agricultural sector has become a cushion for recession. It can even be the strength for future economic recovery. This shows the strength of the agricultural sector in Indonesia and how much stronger it can become if more people, especially the younger generation, invest in them.
It's time to farm in a more modern way, not in the old ways
The concept of modern agriculture, according to the Ministry of Agriculture research and development website, emphasizes agricultural mechanization, that is the massive use of tools and machinery in agriculture. This application of mechanization is an important component in efforts to achieve the target of sustainable food sufficiency.
As the population grows, the demand for food grows as well. Even with intensive three crop rotations per year, the result it yields can be hard to predict and may not be enough. This is the ever-repeating situation that the minister of agriculture, farmers, and other companies try to solve by introducing technology and innovation into agricultural activities. An example of modern agriculture solutions is having quality seeds that are pest and disease resistant or drought-resistant can help boost agricultural production by making sure optimal yield. Weather changes from sunny to rainy can pose a problem for farmers. Not only will they have to deal with the increasing or decreasing water level, but they'll also need to protect crops from pests and disease threats that tend to appear during this change of weather. Making the availability of quality seed is an answer to this problem.
Other solutions that modern farming is trying to answer are the continuous reduction of human forces in the agricultural sector. As reported from Kata Data, in 2019 the proportion of the population working as farmers decreased to 28,5% and the average age of farmers in Indonesia is well above 40 years old, making the assistance of machinery even more important. Machinery such as tractors and planting machines can help cut time and help with reducing human forces in the agricultural sectors. While this alone may not be the most sustainable solution, paired with the campaign to increase the younger generation's interest in farming this is hoped to be a solution for now.
These finding solutions to challenges are the main characteristic of modern agriculture. Innovation-based agriculture that is dynamic in accordance with challenges faced more specifically according to the Ministry of Agriculture.
It is important to note the sustainable part of this modern agriculture. Seeing from past agricultural practices, like the use of heavy chemicals to speed up the growing process can and already have a negative effect on the soil. The overuse of chemical fertilizer can cause the soil to become acidic and in turn, reduce the fertility of the soil itself. Companies such as PT Pupuk Kalimantan Timur (Kaltim) have recently developed an innovation that uses information technology to produce recommendations for the precise fertilization of oil palm plants. The technology gives the recommendation by evaluating the nutritional condition of macroelements in oil palm land. That way, the fertilizer use can be adjusted to the soil and plant needs, ensuring no unnecessary fertilizer resulting in over-fertilization. This technology can be the start of fertilization innovation for any crop by making sure to only add fertilizer as needed.
All of these are a few examples of modern sustainable agriculture. An example that in hope can inspire more younger generations to add their take on it. As they say 'out with the old, in with the new (method of farming)'.
Written by: Safaanah