All You Need to Know about 'Daun Buah' Granular Urea Fertilizers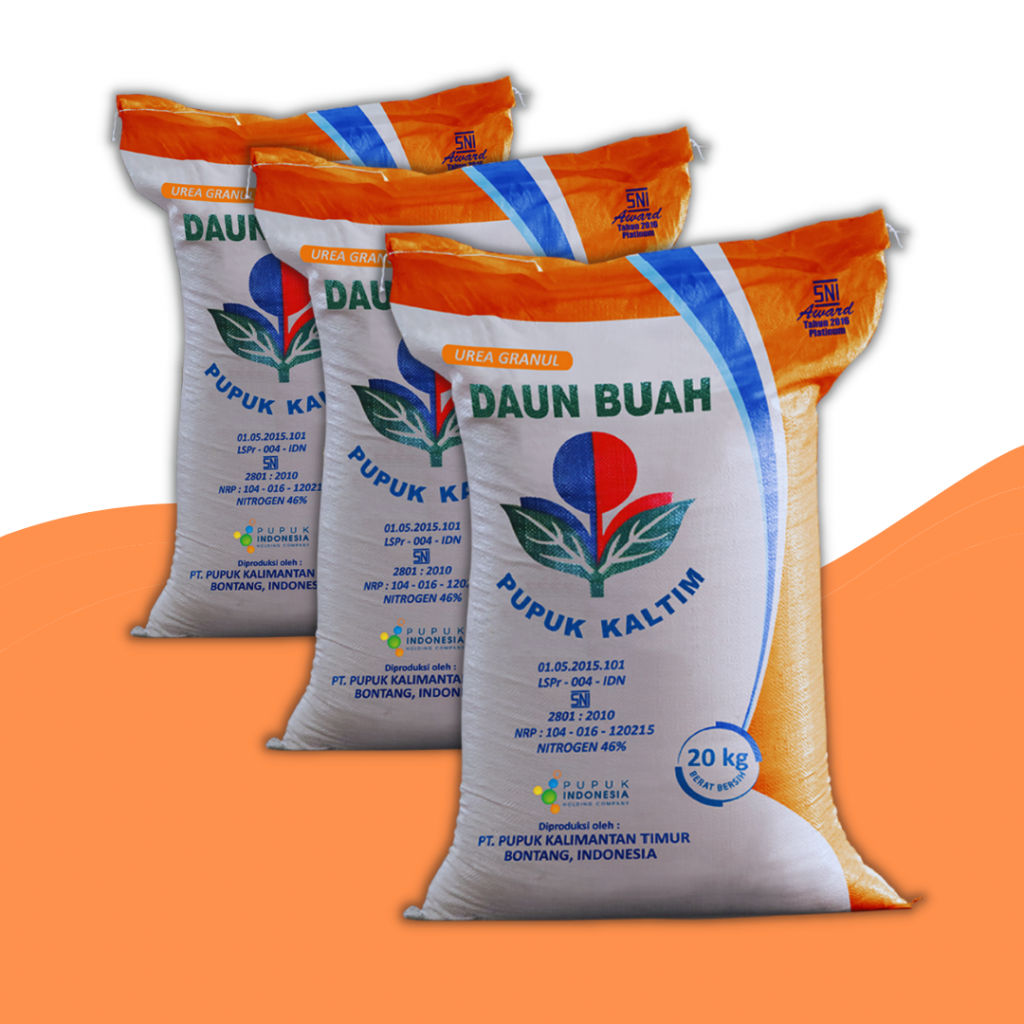 Urea, also known as nitrogen fertilizer, is one of the fertilizers that are very needed by plants in large amounts compared to other types of fertilizers. The government has subsidized urea for farmers at a much lower price than the price of non-subsidized urea. Urea contains 46 percent nitrogen, 0.5 percent moisture, 1 percent biuret content, 90 percent prilled min with the size of 1-3.35 mm.
With chemical formula NH2CONH2, urea has the shape of granules or small crystal granules which are easily soluble in water. It is also hygroscopic or easily absorbs water. Therefore, this type of fertilizer keeps best in a dry and closed container. The color of subsidized urea fertilizer is pink while non-subsidized urea's is white. Urea fertilization can be combined with other types of fertilizers such as phosphorus and potassium fertilizers, because it is easily soluble in water. However, the fertilization on rice plants should not be carried out in excessive water because the nitrogen content in urea will dissolve and can be wasted.
Daun Buah Fertilizers, Alternative to Meet Fertilizer Needs
This type of fertilizer has several uses such as stimulating plant growth in terms of plant height, amount of tillers, leaves, branches and others. It makes leaves look greener, and is able to stimulate photosynthesis on plants. It is good for various types of plants, food crops, horticulture, plantations and forestry. In fact, the fertilizer is also suitable for plants that have yields on leaves such as spinach and mustard greens and help the vegetative phase of plants.
This type of fertilizer is also suitable for rice plants so that they can yield good and optimal harvests. The fertilizer is able to make plant leaves become greener and fresher, containing chlorophyll which has an important role in the photosynthesis process. With the correct (balanced) and proper fertilization process on a regular and continuous basis, plants will grow fresh, healthy, and give doubled yields, also will not damage the structure of the soil used.
However, before fertilizing, it is good to pay attention to physical signs if the plant lacks nitrogen when the color of part or all of the plant changes slowly to a pale yellowish. Then, the process of plant growth becomes slow and if left unchecked it will be stunted.
Besides that, the color of old leaves may turn yellowish. In rice plants, the yellowish color spreads from the tip of the leaf to the leaf bone. If left unchecked, the condition will result in an imperfect fruit that ripens before its due time .
Given the importance of using this fertilizer, PT Pupuk Kaltim (a subsidiary of PT Pupuk Indonesia) produces fertilizers under the 'Daun Buah' brand. Since 1997, the company has been developing and producing in East Kalimantan to meet the growing demand of fertilizers for farmers. The development of the Pupuk Kaltim factory was followed by many other similar projects.
Pupuk Kaltim produces 2 (two) types of urea fertilizer, namely Urea Prills and Urea Granules. The technical specifications of the two fertilizers are the same, only differ in terms of grain size, where Urea Granules are larger and contain more anti-caking agents. Urea fertilizer, also called nitrogen (N) fertilizer, has a nitrogen content of 46 percent. Urea is produced through a reaction process between ammonia and carbon dioxide in a chemical process to form a solid urea in the form of prill (1-3.35 mm in size) or granules (2-4.75 mm). Both are produced by Pupuk Kaltim.
Urea Prills are most widely used for food crops and industries, while Urea Granules are more suitable for plantation crops. Pupuk Kaltim's urea fertilizers are marketed and sold to the domestic sector under 'Daun Buah' and 'Urea Mandau' brands. Pupuk Kaltim's urea products for trade have complied with the standards of SNI 02-2801-1998 (HS: 3102.10.00.00).
President Director of Pupuk Kaltim, Rahmad Pribadi, said that in order to anticipate fertilizer scarcity and to meet the needs of farmers ahead of the growing season as well, Pupuk Kaltim supplies non-subsidized urea fertilizers under Daun Buah brand to every distributor and authorized stalls in all distribution areas. The non-subsidized fertilizers become alternatives for farmers to meet their fertilizer needs during the growing season. In the 2020 planting season, apart from distributing subsidized urea, Pupuk Kaltim also provides non-subsidized urea, which can be obtained by farmers as needed.
According to Rahmad, the supply of non-subsidized fertilizers is carried out to support the planting period so that it can run smooth, considering that Pupuk Kaltim had distributed 228,398 tons of subsidized urea or 98% of the allocated 233,691 tons as of August 28, 2020. The composition and nutrients contained in non-subsidized products are as good as subsidized urea, with more economic use. The nitrogen in non-subsidized urea, he added, is very suitable to help accelerate plant growth and make leaves become fresher, greener and more lush. In terms of quality, Daun Buah urea fertilizer has obtained international standards and is SNI certified. In fact, this product has been exported by Pupuk Kaltim abroad.
Pupuk Kaltim supplies 500 kg of Daun Buah urea and 500 Kg of non-subsidized NPK Pelangi fertilizers at minimum to every stall. Therefore, people can easily get fertilizers as needed and meet the balanced fertilization needed by farmers. This product has been tested on several commodities in various regions in Indonesia through the Demonstration Plot (Demplot) of the balanced fertilization pattern of Pupuk Kaltim.
In fact, the product can be obtained in marketplaces such as Shopee, Tokopedia and other online platforms with a price range of IDR 15,000-IDR 17,000 per two kilograms. The presence of Daun Buah urea fertilizers can help farmers meet their fertilizer needs during the growing season. Pupuk Kaltim also has reliable field workers in each district, who are ready to give guidance and input regarding the proper use of fertilizers. This has become one of the factors in increasing productivity not only from the use of fertilizers, but also land management methods and seed selection, and the correct timing of pesticide application.