Learn How to Grow Sweet Potatoes, K-Pop Star IU's Favorite Food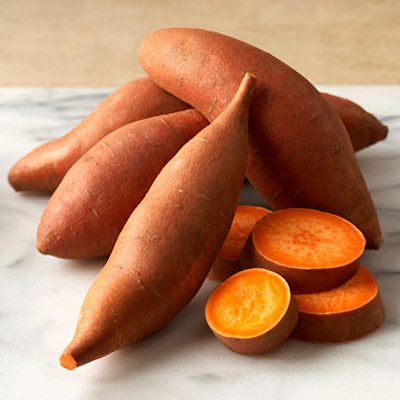 Sweet potatoes are surely one of the healthiest things available to man. Packed with nutrients, the root vegetables provide a number of health benefits. In South Korea, sweet potatoes have become a trendy diet food especially to K-pop idols. The popular singer and actress IU, for example. Born as Lee Ji-eun, IU famously practices the sweet potato diet.
She is not only admired as a singer but also for her skill in acting. IU has starred in many popular dramas and movies such as Hotel De Luna, The Producers, Moon Lovers: Scarlet Heart Ryeo, Dream High, and many more. As an idol, she certainly should maintain her healthy and ideal body weight.
It was not an easy thing to get a slender and beautiful body as she looks like today. IU should go on an extreme diet before debuting. One of the diet plans she practices is changing her eating habits. She usually starts the day with an apple for breakfast, boiled sweet potatoes for lunch, and a protein drink for dinner. She always makes sure to have sweet potatoes on her menu.
Health Benefits of Sweet Potatoes
Before practicing the diet, the 28 year old star must have consulted a nutritionist and found out the benefits contained in sweet potatoes. No wonder if she chooses to consume sweet potatoes to stay in shape.
What are exactly the benefits of sweet potatoes?
Help in Weight Loss
Sweet potatoes can help you lose weight because they are high in fiber and lower in calories than potatoes.
Control Blood Sugar Levels
Sweet potatoes are known to have a low glycemic index scale which results in a less immediate impact on blood glucose levels. This is also what makes sweet potatoes can be one of the diet foods for diabetes patients due to a decrease in insulin resistance.
Reduce Cancer Risk
Sweet potatoes are rich in antioxidants. Therefore, eating them can help reduce the risk of some cancer cells. Research in 2018 showed that anthocyanins, one type of antioxidant in sweet potatoes, can slow the growth of cancer cells. Consuming sweet potatoes can reduce the risk of prostate, colon and breast cancers.
Boost Immune System
Support Healthy Vision
In view of the benefits above, it is not impossible to put sweet potatoes into our daily menu. Furthermore, we can grow them at home.
Growing sweet potatoes is actually quite simple. We can do it in two ways, by using potting media or planting them in the ground or garden.
Growing Sweet Potatoes in Pots
Sweet potatoes are considered as plants that are easy to grow at home, including for beginners. If you don't have a lot of space, you can try to plant them in pots. You can use sweet potatoes and their leaves not only as food, but also as ornamental plants.
Before planting, the first step that must be done is prepare the seeds with good varieties. Then do the cuttings (stek) by using two thirds of the sweet potatoes and plant them in polybags. After the seeds sprout, move them into pots.
It is important to choose the perfect pots as a planting medium. Choose pots that have good strength so they are not easily broken. The pots should have large capacities with the diameters of 20-30 cm and heights of 40-50 cm. If you want to keep using polybags, then choose them with the sizes of 50×60 cm. Next, make holes in pots or polybags to facilitate the removal of excess air when watered or exposed to rain.
Before planting sweet potatoes, you should prepare the soil or potting soil properly. Prepare a fertile topsoil, manure, and rice husks. Mix the three ingredients with a ratio of 1:1:1. If the manure is replaced with compost, the ratio becomes 2:1:1. After all three are mixed, put them in a pot with the height of two thirds of the pot.
After you have selected a perfect pot and planting medium, you can plant the seeds. Each pot can be filled with 1-2 seeds. Plant them right in the middle to make them look symmetrical and neat.
The next step is treatment. It is certainly a very important thing to take care of your plants. First, make sure that the pots are placed in spots that can receive sunlight.
Don't forget to give enough water every day on a regular basis and remove weeds that grow in pots so that your sweet potatoes can grow maximum.
Fertilization is also important so that nutrients in the soil remain adequate. You can use NPK compound fertilizers or single fertilizers (ZA, SP-36, and KCL). In this case you can use fertilizers produced by Pupuk Kaltim, such as NPK Pelangi.
To make your sweet potatoes grow maximum, do the fertilization regularly. Also add a little compost or manure when applying inorganic fertilizers. And the very important thing to do for sweet potatoes in pots is always remember to lift the stems every 2 weeks so that the roots do not grow on the stems and enter the soil. Because this can inhibit the growth of sweet potatoes and will make the tubers become small.
The final step is of course harvesting. Harvesting sweet potatoes in pots is very easy, simply by turning the pot over and removing the entire planting medium so that you can see the tubers.
Growing Sweet Potatoes in Garden
Planting sweet potatoes in pots and your garden actually doesn't make much of a difference. The first step, of course, is choosing the variety of sweet potato seeds that will be used. Then do the cuttings by using two thirds of the sweet potatoes as the seeds.
Afterwards, prepare the land. Basically the planting medium for sweet potatoes has no special criteria, because they can grow on various types of soil. However, avoid planting sweet potatoes in clay because it can produce bad roots. Next, don't forget to give manure or compost.
Plant the sweet potatoes by immersing two thirds of the stem slip into the soil. Form in one bed with two rows of plants. The distance between plants in one row is about 30 cm and the distance between rows is 40 cm. Try to keep the soil moist by watering regularly in the morning and evening on newly planted slips.
It is not really difficult to take care of your sweet potatoes that are planted directly in the soil. But if you want maximum results, you need to give good attention. Harvesting can be done after 3-4 months from planting, when the leaves and tips of the vines have started to turn yellowish.
Hopefully the above information about the benefits of sweet potatoes in daily life and how to grow them at home will be useful.