PKT Switch to Electric Motors? How come?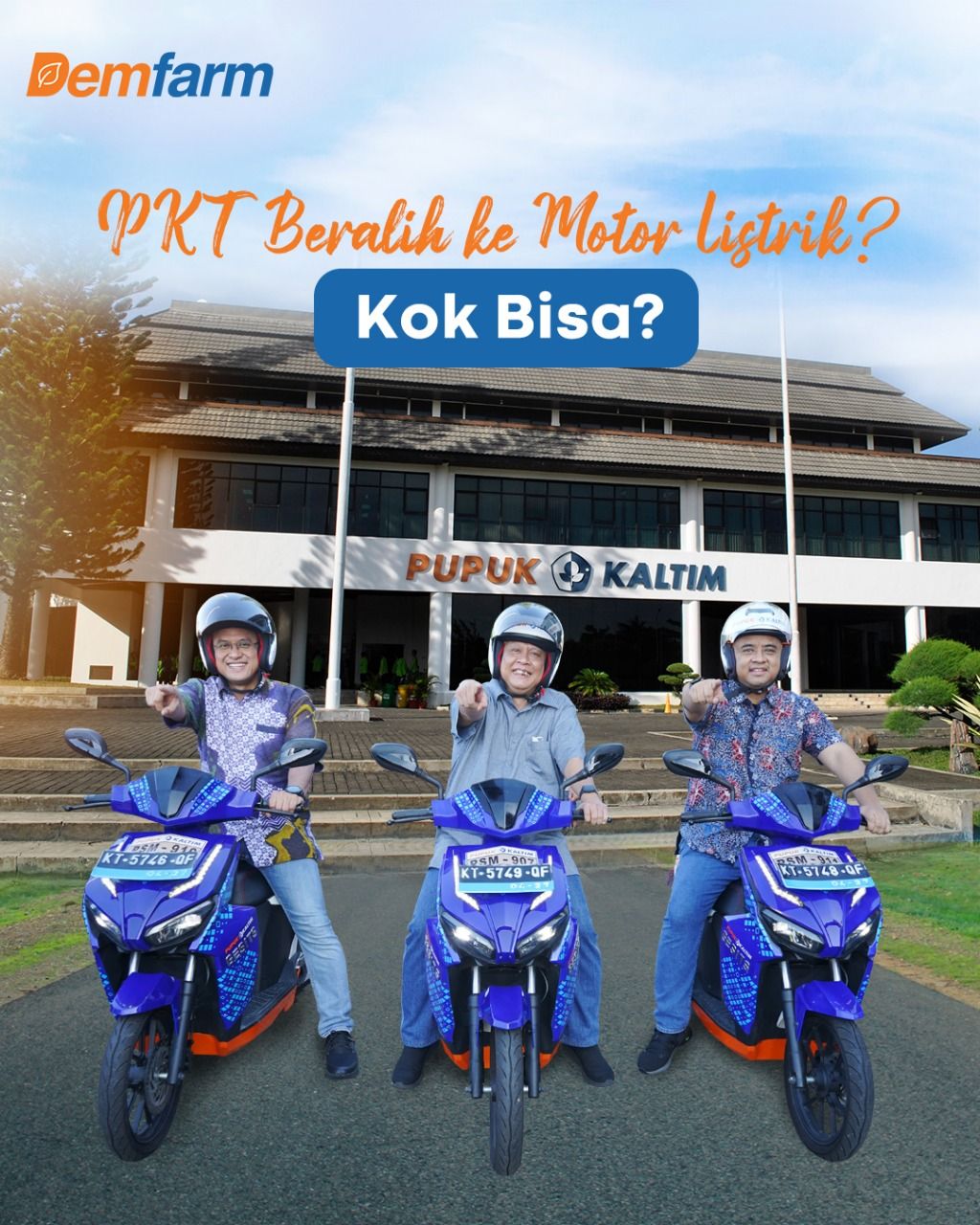 PT Pupuk Kalimantan Timur (PKT) began to use electric motors for activities within the company. This step is to support the achievement of Indonesia's Net Zero Emissions target in 2060.
The use of electric motors for activities in the PKT work environment was marked by the launch of an electric motor with the theme Smart, Clean, and Green. The launch of the electric motorbike was carried out by PKT President Director Rahmad Pribadi, together with Pupuk Indonesia Deputy President Director Nugroho Christijanto and was also attended by Pupuk Indonesia Business Transformation Director Panji Winanteya Ruky on Thursday (21/7/2022).
Rahmad Pribadi revealed, in line with the Net Zero Emission 2060 framework, that PKT has set a net zero carbon emission target in 2050, with a 30 percent reduction in carbon emissions in the first decade of 2030. The use of electric motors is one of the first steps realized by PKT to reduce fuel emissions from the company's operational vehicles, in addition to other efforts such as the construction of a soda ash factory, activation of urea 1, to carbon circuits stations.
"The realization of net zero carbon emissions will continue to be developed by PKT, to suppress the use of fossil energy in the company's business scope. Gradually, all operational vehicles that still use fossil energy will be replaced," said Rahmad.
According to Rahmad, this is also a form of PKT's commitment to the principles of Environmental, Social, and Governance (ESG) which continue to be prioritized in creating business growth, while at the same time building a balance of performance in economic, social, and environmental aspects. Thus, the benefits will not only have an impact on the company's growth but also focus on aspects of sustainability to community independence following ESG guidance.
The inclusion of PKT in the Top 3 global ESG rating for the agriculture chemical category based on Sustainalytics' assessment, continuously becomes a challenge for PKT to continue to develop its business with better ESG management. "For that, we must ensure that PKT continues to provide benefits not only for employees but also for the surrounding community and the earth," Rahmad added.
Deputy President Director of Pupuk Indonesia, Nugroho Christijanto, appreciated PKT's steps to suppress the use of fossil energy in the company's activities to support the achievement of Indonesia's Net Zero Emissions target in 2060 and free of carbon emissions in 2030. According to Nugroho, this is the initial milestone for the company's contribution to the Pupuk Indonesia Group environment in achieving the net zero carbon emission target, which is in line with the decarbonization efforts launched by Pupuk Indonesia.
"PKT has started by installing solar panels in the office environment, which has contributed to supporting decarbonization. We must develop it better in the future," said Nugroho.
He said that Pupuk Indonesia would continue to support the sustainability of PKT's efforts to reduce carbon emissions, which he hopes will soon be followed by all companies within the Pupuk Indonesia Group environment. Moreover, considering the current challenges, carbon emissions are mostly generated from company business activities such as urea and ammonia plant operations. So that in the future, the realization of the program in achieving net zero carbon emissions by 2030 can continue to be developed by all subsidiaries of the Pupuk Indonesia Group, especially by replacing fossils with renewable energy.
"This PKT idea is the beginning for us to support decarbonization in the Pupuk Indonesia Group environment. Although it is not easy, we are optimistic that we will be able to achieve this target in 2030," Nugroho hoped.
PKT's Other Efforts
As a fertilizer producer, PKT is also transforming into a green industry as an adaptation to climate change. The transformation into a green industry prioritizes the use of environmentally friendly renewable energy in its production process and is included in the company's roadmap.
"Pupuk Kaltim is a producer of ammonia and urea, with natural gas as the raw material. If we do nothing, in other words, business as usual, the greenhouse gas emission will reach 4.2 million tons of carbon per year. However, we are proactively making breakthroughs to reduce carbon emissions by up to 32.51 percent in 2030. So it is not impossible that in 2060 or more than two decades, we will achieve net zero emissions," said the President Director of Pupuk Kaltim, Rahmad Pribadi.
Rahmad continued, that his company is currently using a mixture of 1-5 percent biomass in coal boilers. Biomass comes from organic waste, wood chips, palm shells, sawdust, and straw. This has the potential to reduce 5.4 percent of greenhouse gas emissions.
"In addition, we developed the concept of carbon capture, utilization, and storage (CCUS). One of them is by building a soda ash factory. This factory collects carbon and processes it into glass raw materials. The potential for reducing greenhouse gas emission is 0.42 percent or 17,715 tons of CO2 per year," he said.
The Danger of Carbon Emission
A global study on carbon emissions published in the Journal of Sustainability revealed that increasing carbon emissions have caused significant concern among countries such as China, the United States, Russia, India, the European Union, and Japan as the world's leading emitters of carbon.
Excessive volumes of carbon and greenhouse gas emissions certainly have many negative impacts on all sectors of the environment, human health, and the economy. The following are the impacts of carbon emissions:
1. Environment
The environmental impacts of carbon emissions are:
Increase the number of greenhouse gasses, leading to global warming
The increase in geothermal temperatures due to the greenhouse effect will cause ice and glaciers at the north and south poles to melt.
The melting of the poles will cause sea levels to rise and increase the potential for flooding in coastal areas.
Floods and rising sea levels increase land erosion.
Global warming creates unstable seasonal changes
High rainfall and high heat can cause floods and forest fires
Poor natural ecosystems because many living things cannot survive the increasingly hot temperatures.
2. Human health
Impacts on human health from carbon emissions are:
Uncontrolled heating can result in dehydration and heat-induced head injuries
Cause respiratory problems and/or cardiovascular problem that leads to the development of cancer cells through exposure to the air pollution
Increased risk of disease transmission
3. Economy
The economic sector impacts of carbon emissions are:
Production of agriculture, plantations, forest ecosystems, and the tourism economy will be affected by global warming
Human health impacts depress economic and social support
Rising sea levels, potential flooding, and forest fires can cause damage to public infrastructure.