The Beauty of Cut Syifa and Her Ornamental Plants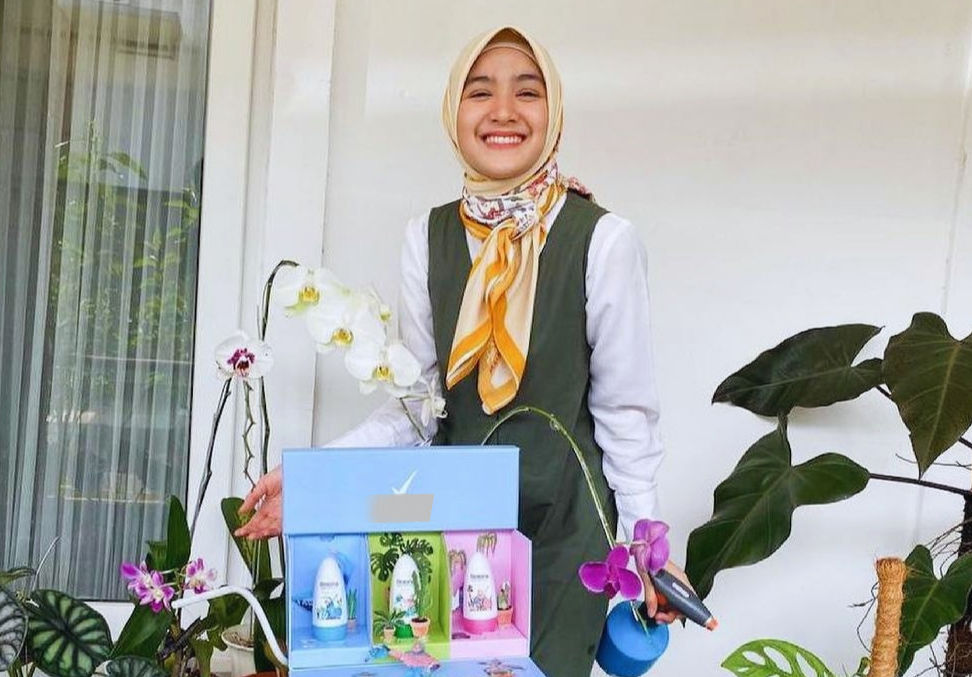 Beautiful actress Cut Syifa turns out to love gardening. With her elegance, who would have thought that the "Samudra Cinta" TV series star would not hesitate to get her hands dirty in the garden.
If she can make many achievements in the entertainment industry thanks to her acting skill, is she also skilled at gardening?
The 23 year old beauty is rumored to have several collections of ornamental plants. She also grows many kinds of vegetables. This new hobby was introduced by her co-star, Angela Gilsha, who has been known as an avid gardener.
Among the plants that Cut Syifa grows are bok choy, spinach, cayenne pepper, tomatoes, spring onion, ginger, and avocado.
Sometimes she shares photos of herself on Instagram with ornamental plant backgrounds or just some photos of her plants. This proves that she also likes growing ornamental plants. Her collections include roses, white moon orchids with purple combination, Aglaonema Read Peacock, and Philodendron.
If the young artist can do it, you could also try to grow crops at home, either vegetables or fruits or even ornamental plants. But when you decide to start growing plants, you need to really understand how to take care of your plants.
How to Take Care of Ornamental Plants
Planting ornamental plants is not as easy as it seems. Cut Syifa even needs to learn and know the processes to take care of her plants at home so they can thrive, flower, and have beautiful leaves.
Taking care of plants is not just a matter of watering plants and applying fertilizer frequently. There's a lot of things to do. You can follow these following steps:
1. Choose Plants
Before planting, you certainly must first choose what kind of plants you want to plant. After choosing the plants that you think are suitable to grow at home, make sure that you have some knowledge of them.
If you are a beginner, choose plants that are easy to grow, such as snake plant (lidah mertua) or cactus and several types of taro (keladi). Cut Syifa usually does the "Plan Shopping" activities with her friends to get the plants she wants. You can use this method to gain additional knowledge when shopping for plants. Have a small talk about the plant you want with the seller.
2. Choose a Proper Planting Media
After choosing the plants for planting, the next step is to choose the planting medium, whether you want to grow your plants in the soil or in pots. If you choose the soil, make sure that you are aware of the soil fertility.
Every time you start planting, it would be better to loosen the soil first to maximize the growth of your plants. Give a mixture of organic and inorganic fertilizers to increase the nutrients in the soil. Do the same thing for pots. Fill them with a soil mixture that has humus, good nutrients.
3. Watering Procedure
Every plant needs water to live. Therefore, watering is very important to do. However, it also has certain procedures. Before watering the plant, make sure that you are aware of the soil condition. See if the soil is moist or dry, as this will allow you to determine how much water the plant needs. Because if there is too much water, the plant will rot. On the other hand, if there is a lack of water, it will dry up and wither.
4. Positioning and Lighting
Some ornamental plants need a lot of sun, but some only need a little. Ornamental plants such as calathea can survive low light and like a humid place. This ornamental plant is suitable to be placed indoors.
Meanwhile, ornamental plants such as roses require a lot of sunlight. Thus, roses are suitable to be placed outdoors or in the yard.
5. Pest Control
You should periodically watch your plants to avoid pests, such as caterpillars. If you want your plants to thrive and be healthy, you can cut part of the leaf that they eat, because it can spread to other leaves.
You also need to cut the dry leaves and wilted flowers. It aims to grow new shoots.
6. Fertilization
Fertilization is a very important step in growing ornamental plants. Fertilizers are applied to nourish the soil, increase nutrients, which can accelerate plant growth so that the plants will grow healthy and fertile.
You can use organic or chemical fertilizers. One of the recommendations for chemical fertilizers that you can use on your ornamental plants at home is NPK Pelangi.
NPK Pelangi is produced by Pupuk Kaltim. Based on its content, the fertilizer is classified into two types. First, NPK Pelangi Blending, which is processed through mechanical blending, comes from high quality raw materials such as urea, granules, DAP (Diammonium Phosphate), KCL Flake, and fillers in the form of MG and Ca so that the granules are colorful.
The second is the NPK Pelangi fusion. This type of fertilizer goes through a steam granulation production process so that it has homogeneous granules containing N, P, and K elements. The advantage of this product is that it can be formulated flexibly as needed.
7. Remove Dust from Plants
Removing a layer of dust from your plants, especially leaves, can make them look more gorgeous. You can clean the leaves using a damp cloth, thereby reducing the risk of the leaves being torn and damaged.
Those are some steps you can adopt so you can have beautiful ornamental plants that can be used as picturesque photo spots just like Cut Syifa did. Good luck!